Huge gold-encrusted rocks unearthed in Australia
Posted on 2018.09.10 at 15:57
I wonder if this is near Hutt River Province? They make their own gold coins!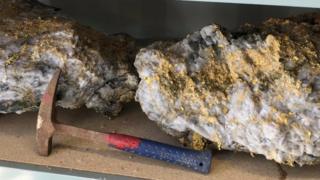 (It's a Canadian mining company!)
The largest specimen, weighing 95kg (210lb), was found to contain more than 2,400 ounces of gold, Canadian miner RNC Minerals said.
The company said it had extracted gold worth about C$15m (£9m; $11m) from a mine near Kalgoorlie last week.
One mining engineer described the finds as "exceedingly rare".
(read more via link above)