'Collusion is not a crime,' says Trump, as Mueller-Manafort trial begins
Ex-FBI Chief of Staff Demolishes Trump Team's Latest Defense: 'Collusion Is a Crime'
FBI Launched Investigation Two Years Ago -- Still No Collusion Found
Trump Is in Major Legal and Political Trouble — His Desperate Attempts to Escape Could Lead America to Catastrophe
Dershowitz: Mueller Is Just Trying To 'Squeeze' Manafort To Get Something On Trump
Is There Irrefutable Evidence of the Trump Campaign's Collusion with Russia?
FBI's Conspiracy Theory Has No Clothes
Yes There Was Collusion
Dianne Feinstein Says She Still Hasn't Seen Evidence Of Collusion [VIDEO]
'Collusion Involves at Least Four Crimes': MSNBC Host Explains Why Giuliani's Latest Defense of Trump Is So Wrong
Democrats' Impeachment Army: $110 Million, 1000 Staff, 2000 Volunteers
Bombshell Report Offers 'Strongest Evidence to Date Implicating' Trump in Criminal Obstruction: 'All But Inevitable'
Trump-Russia Connection: Key Questions Answered
'Podesta emails showed Facebook colluded with Clinton', Assange reminds
CNN Is Finished: New Leak Reveals DNC Wrote Questions For Trump CNN Interview | Wikileaks
A 40-year history of deceit and collusion: How the EPA has been lying to you about the health hazards of pesticides
Democrats' obsession with Russiagate will allow 'Republican wrecking ball' to dismantle US – Chomsky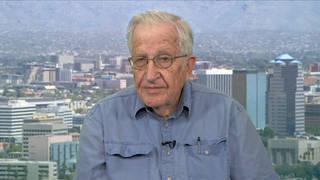 Noam Chomsky: U.S. Must Improve Relations with Russia and Challenge the Expansion of NATO
Russian President Vladimir Putin has invited President Trump to Moscow just days after the White House postponed a planned meeting between the two leaders in Washington until after the midterm elections. The invitation to Moscow comes after Trump and Putin met for a summit in Helsinki, Finland, earlier this month. For more about U.S.-Russian relations, we speak with world-renowned political dissident, author, and linguist Noam Chomsky. He is a laureate professor in the Department of Linguistics at the University of Arizona and Professor Emeritus at Massachusetts Institute of Technology, where he taught for more than 50 years.
'Deep State social media meddles in US elections' – Kim Dotcom slams 'Zuckerspy & Jack the Ripper'
Putin Says "Powerful Forces" In U.S. Aggravating Russian-American Tensions
How the Russiagate Conspiracy Benefits Those in Power
Ron Paul: "Secret Government" Responsible For Fanning Russia Hysteria
Facebook Deletes Official Alex Jones Page
YouTube deletes videos from Alex Jones' InfoWars
Twitter in total DENIAL about its shadow banning of conservatives
USEFUL IDIOTS: How Our Intelligence Agencies Helped Putin Weaken America
Russophobia digest part 2: This week's top scare stories in the MSM
52% of Democrats believe Russia tampered with the "Vote Totals" to get Trump elected president
Poll: Majority Of Democrats WRONGLY Believe Russia Messed With The 2016 Vote
Conspiracy Theorists: Poll Shows Majority of Democrats Falsely Believe Russia Hacked Election Results
'Ridiculous propaganda': Users slam NATO's online fake news game