Chronic fatigue syndrome treatment 'should be withdrawn'
Posted on 2018.05.10 at 15:49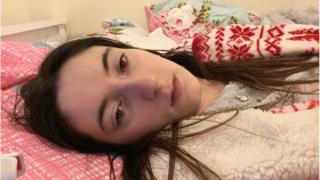 Chronic fatigue syndrome graded exercise therapy (GET) 'should be withdrawn'
A common treatment for chronic fatigue syndrome should be scrapped immediately, according to one of the UK's leading experts in the illness.

Dr Charles Shepherd says graded exercise therapy (GET) can actually be harmful to some people.

He argues the idea of getting patients to do increasing amounts of exercise can lead to serious relapses.

Other health experts disagree and say GET is both proven and a safe method of treatment.

Chronic fatigue syndrome (CFS) is also known as myalgic encephalomyelitis, or ME.
[NOTE: My opinion is that he is mainly correct. It is impossible to know how much exertion any CFS person can or should tolerate - and it always varies depending on a multitude of stressors. Even the patient/victim, who should best know his or her own tolerance, has difficulty knowing for sure, and may be constantly foiled. However, it should be the patient who determines his own therapy, load, and the limitations of his or her own, "energy envelope." One thing that could really help CFS / ME patients would be the acknowledgement that they need a lot of health supplements, rather than prescription meds. Better subsidy via Medicaid would help many who are financially strapped, as most are].
MORE ON CFS / ME:
My last post
HERE
.
Documentary - ME Awareness Week: BBC Newsbeat Documentary – "M.E. And Me"Documentary - UNREST
book -
Thirty Years of Disdain: How HHS and a Group of Psychiatrists Buried Myalgic Encephalomyelitis
- and
HERE
.
Chronic fatigue: 'Held hostage by ME'
Chronic fatigue trial results 'not robust', new study says
https://www.watercures.org/chronic-fatigue-syndrome-cfs.html
http://solvecfs.org/
Post Lyme Disease and Chronic Fatigue Syndrome (ME/CFS) – Are They The Same?
A Closer Look at Natural Killer Cells In Chronic Fatigue Syndrome and Three Natural Ways to Boost Them
"
What is Chronic Fatigue Syndrome?"
Aspartame Chronic Fatigue Syndrome, Just Another Small Part of Rumsfeld's Plague
The Enemy Within - (1995)
Viral CFS- A Possible Cure - MY STORY
Cannabis oil for chronic fatigue: A teenager says it cured his debilitating illness
* my TAGS for:
CFS
|
CFS + me
|
MY CFS life